Artist's Statement
Gold and silver are precious metal elements. Their chemical and physical qualities are inspirational. I create with the media as if it had a life of its own. Silver is a mirror that reflects its environment, in the same way our human spirit forms its identity. Like our bodies, it is a conductor of heat, sound and energy. I allow the precious metals to create for themselves; forms and reactions that are genetically programmed and unalterable, often entwined with gems to create majestic colours and illusions.
Gold and silver can be symbolic of deep love or a deadly weapon. The artist may direct its purpose, but not its reaction or meaning.
I am inspired by and have conducted extensive research into Paul Gauguin's Symbolism and Synthetism movement, as well as Georg Jensen and the Bauhaus movement.
Biography
Wendy Springfield originally hails from Breakfast Creek in Brisbane and has been creating jewellery and exhibiting small objects d'art for the last 40 years. She has 37 years experience teaching goldsmithing courses for a collection of education institutions throughout South East Queensland and Northern NSW. Wendy studied Fine Art at Queensland College of Art, majoring in Gold and Silversmithing. A strong interest in art history and theory has more recently culminated in a Bachelor of Arts Degree from Southern Cross University at Lismore.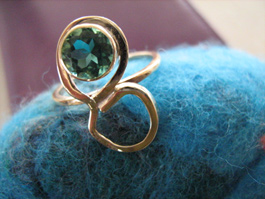 Wendy Springfield
Undergraduate Diploma of Fine Art (Gold and Silversmithing)
Bachelor of Arts (Cultural Studies, History and Writing).
Cert. IV Training and Assessment
Cert. IV Teaching English as Second Language